Manufacture of packaging machinery and parts
Originally a distributor of packaging equipment with exclusive agency contracts, Omori Europe has evolved into a manufacturer of packaging machinery in recent years. Obviously, we still source high-end equipment from our partners all over the world. However, in response to demand for increasingly specific applications, we have started to specialise more in engineering and manufacturing machines or machine parts.
Machine construction has always been a fascinating field. The availability of modern CAD-CAM systems and the associated machining centres has opened up a world of almost limitless possibilities. You can make anything you can think of. Mechanical engineering has never been such an interesting profession. Constructions and parts designed by our engineers can be manufactured almost immediately in our workshop. We immediately see the result of the output generated in the drawing office. This not only has a beneficial effect on our delivery times, it also boosts staff creativity.
Another advantage is that our constructions can be slimmed down to a large extent. Fewer parts due to intelligent use of the available materials, clever design and advanced production methods.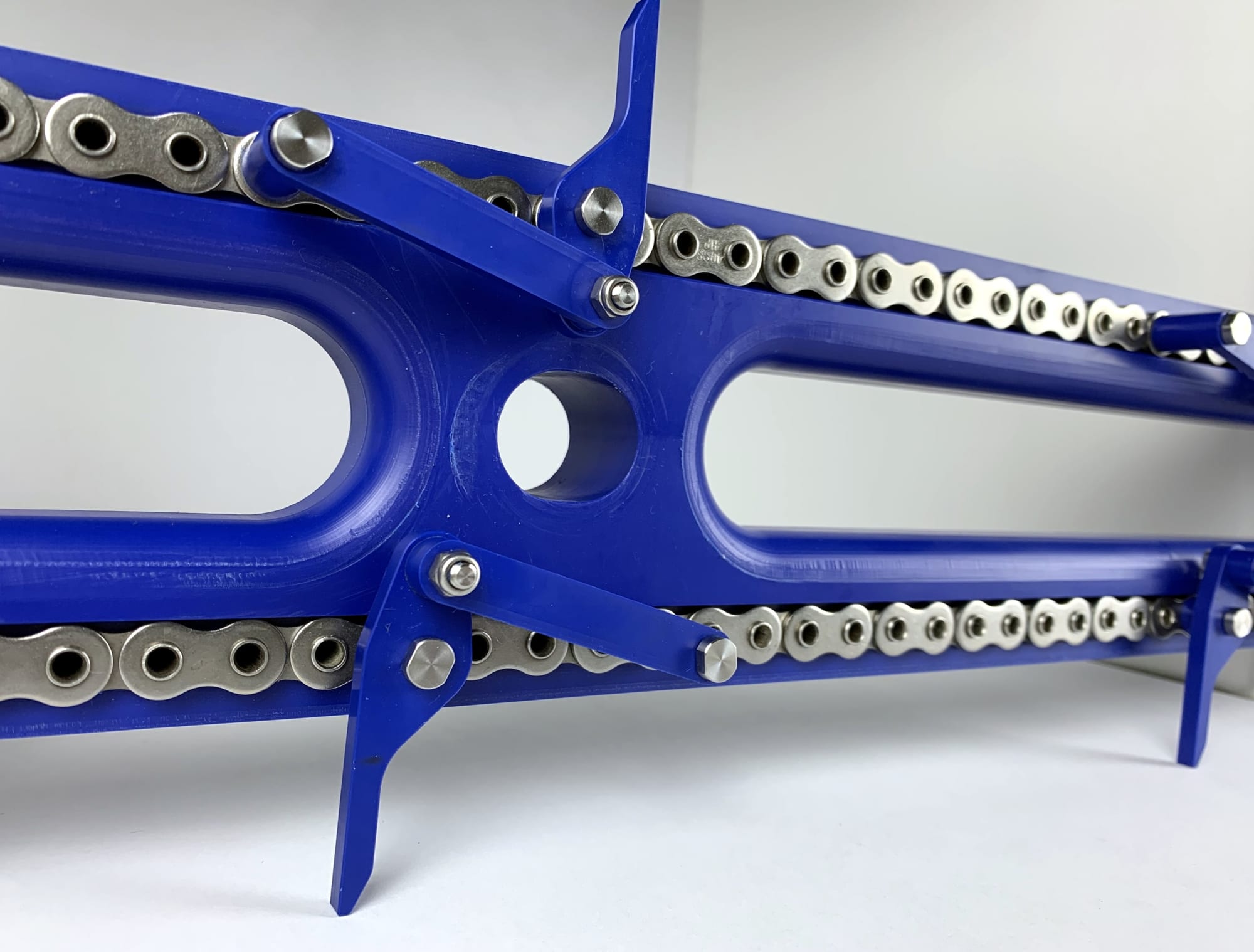 No unwanted acceleration forces at the transfer from chain to film
The figure opposite shows our design of pick-up dog on the infeed chain of an Omori flowpack machine. This design is based on the "Wippermann" principle. When a chain deflects downwards around the return pinion at the end of a conveyor, the pitch between the chain pins changes. Because the reaction arm on the pick-up dog has a fixed length, the dog tilts backwards in relation to the chain. This eliminates the forward rotation that would occur in the case of a fixed pick-up dog. The result is that the products can be conveyed completely into the film tunnel and are not subjected to unnecessary acceleration forces at the chain-to-film transfer point.
The pick-up dogs are mounted next to the chain. This feature, in combination with the open design of the construction, ensures good cleaning access and hygiene.
The entire pick-up dog construction, including the specially made shafts, consists of only five parts. In comparison to the 12 parts of the original design, this represents a major saving. Not only in production costs, but also in terms of assembly time.
More flexible thanks to in-house production capacity
Outsourcing activities and manufacturing to low-cost production countries is extremely tempting, easily arranged and seemingly efficient. Furthermore, highly qualified technicians who are expert in this area are hard to find. Regrettably, the education system in the Netherlands has fallen short of the mark in recent decades, so we have had to train our own people. Even so, we are convinced that handling most of our production in-house can only increase our added value.
Made in Holland
This capability will make us much stronger in the future, and less dependent on third parties. Having our own production capacity makes us far more flexible. It will allow us to react and respond to our customers' requirements much faster in the future. Our service department is also much more effective because we can produce any conceivable part extremely quickly in emergency situations.
You can make anything you can think of. This not only has a beneficial effect on our delivery times, it also boosts staff creativity.
Jeroen Mulder – Technical Director