Efficient packaging of premium pet food
We are visiting Jonker Petfood today – a family business with a rich history that goes back to 1937. The company's relocation to the current site in Waalwijk in 1992 was an important milestone. It created opportunities for innovation; the latest filling lines, extra warehouse and office space and hyper-modern production and packaging machines. Since January 1st of this year, Jonker has been part of United Petfood Producers, a family business from Belgium, and has thus become one of the 14 production locations. As a business that produces 80,000 tons of pet food per annum and supplies products to 38 countries worldwide, Jonker Petfood is one of the largest producers of dry pet food for dogs and cats.
Martin Sonneveld, the company's production director, takes us on a tour of the factory and told us how he came to Jonker. "I wasn't looking for another job at all. I worked in construction and was a keen footballer. Jonker Petfood was a sponsor of Achilles Veen at the time. I got into a conversation with Mr Jonker while enjoying a drink after one of the matches and he invited me to visit the plant. That was 30 years ago. I started out as 2nd assistant on the production line and have worked at pretty much every station in the factory. That experience comes in handy every day".
"High quality assurance standards"


Jonker Petfood focuses on producing dry pet food for dogs and cats in the basic, medium and premium segments for international private labels. The company works to the highest quality assurance standards to continuously guarantee high-quality pet food for its customers.
"The first checks take place when the raw materials arrive. All the ingredients are subjected to an infrared scan, analysis and testing in our own laboratory. They are only unloaded if they comply with our standards and those of the NVWA (Netherlands Food and Consumer Product Safety Authority)", Martin Sonneveld tells us.
The raw materials are then weighed according to a recipe. Sonneveld: "The weighing process consists of an initial weighing operation followed by a second checkweighing step. The system stops if it detects a difference of 200 grams. We have about 75 different end-product silos and a raw materials stock of 6000 tons in the silos."
Manufacturing process Jonker Petfood 
We have now arrived at the control room where operators monitor the entire automated production process. "The process from initial raw materials metering to the final chilled pellets is displayed on 15 screens. Based on selection of one of 400 recipe numbers, all the raw materials are automatically weighed in 25 batches of 2000 kilos, a total of 50 tons", says Martin.
Not only the raw materials are tested. A sample is also taken from the production line and analysed every hour. If the specifications deviate from the standard, a 'go' or 'no-go' decision is taken in consultation with the quality control department. On the morning of the following day, a mixture sample is made from the production samples and compared to the recipe samples in the lab. "We do this to ensure the same high pellet quality at all times. Production samples are kept for two years and assigned a track-and-trace code. If there is a recall, we can identify exactly where each pet food product has been sent".
Production and packaging are two separate processes at Jonker Petfood. The 'reform', Martin's name for optimisation and automation of both the production and packaging processes within the company, has really paid off, he tells us. "We know exactly where everything is at any time during the day, what the 'Best Before' date is and when we need to produce a new batch in order to have stock constantly available for our customers. Each product is given a unique code after the production process so that we can apply the 'first in, first out' principle."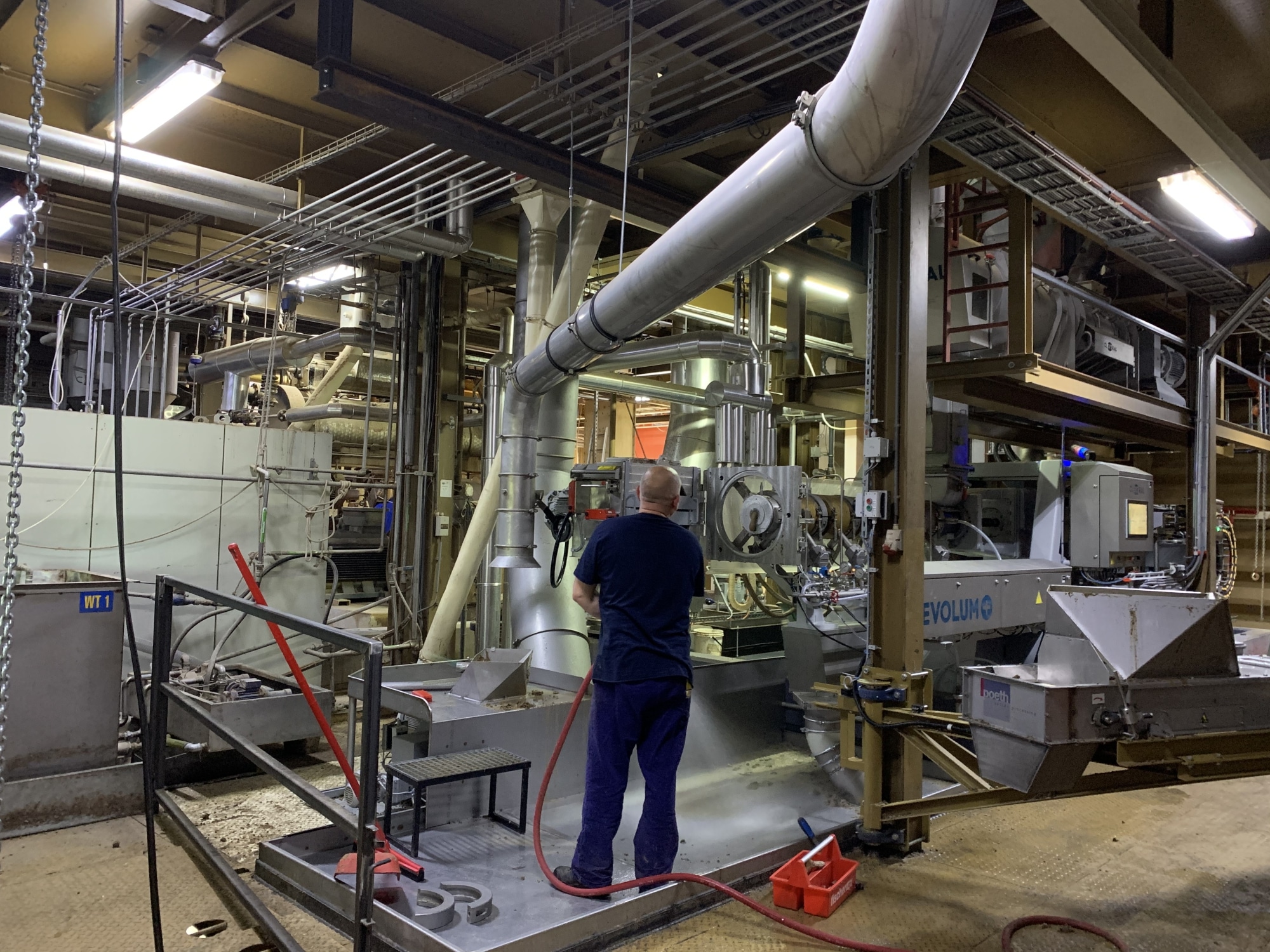 The pellets are packaged when the customer places an order. The big bags of end product are filled directly from the finished product silo or removed from the warehouse and transported to the packaging line for portioning and packaging in stand-up pouches.
Clear trend in premium pet food
In the Netherlands, Jonker Petfood was one of the first companies to process fresh meat on 2 extruder lines to produce premium pet food. Salmon, lamb, chicken and beef are now processed into chunks 3 days a week.
"We see a clear market trend towards premium quality and more luxurious ingredients in the chunks", Martin continues. "This has also resulted in increased demand for the smaller packaging sizes and an increased number of smaller batches. As a result, we have had to structure the entire organisation much more flexibly in comparison to the set-up for producing large packaging sizes. Four years ago, we only produced 10 to 25 kilogram bags on automated machinery".
Our packaging costs have reduced significantly
"At the recommendation of Votech (editor's note: a supplier of large-bag filling machines), we looked at Omori Europe's products at a trade fair and then set up a meeting with them. Erwin Middelhoff (editor's note: Sales Director at Omori Europe) invited us to test the Leepack packaging machinery in the demo area at your factory. The results were so good that the first weighing and packaging line with a weigher, platform and packaging machine was installed here and in full production just a few months later. We are now able to fill and seal pouches and bags ranging from 40 grams to 8 kilograms completely automatically and our packaging costs have reduced significantly."
"The changeover times are short, the line is easy to operate and our packaging process is more efficient because we have less downtime". When Jonker Petfood expanded its production capacity, installing a further two complete packaging lines from Omori Europe was the logical choice after the successful purchase of the first line.
"When we need you, we know we can rely on a good outcome"
Innovation and investment are on Martin's mind every day and he likes to lead the way. "If we want to continue to meet the needs of our customers, we will have to excel in other areas as well as supplying high-quality pet food. We continue to improve our warehousing, packaging, transport and delivery processes. Jonker Petfood is very happy with the collaboration with Omori. "Our customers expect us to react very quickly, so we expect the same of our partners. The lines of communication are short and when we need you, we know we can rely on a good outcome".
When your company needs to fill product in small packages with a nice seal, Omori is the first name that springs to mind. Fast service is essential for any company's continuity and Omori have never disappointed us in the time we have done business with them.
Martin Sonneveld – Production director Jonker Petfood B.V.