Are you looking for packaging that gives your products maximum appearance, ease of use and shelf life? Omori Europe advises you on the possibilities and, in close consultation, we create the right packaging that meets these conditions.
Omori Europe has built up an excellent reputation, especially in the food industry. With our packaging machines you can pack your products quickly, reliably and hygienically and you are assured of a machine that effortlessly meets the ISO9001 and JIS quality criteria. Whatever industry you are active in. Find out how we can improve your packaging process.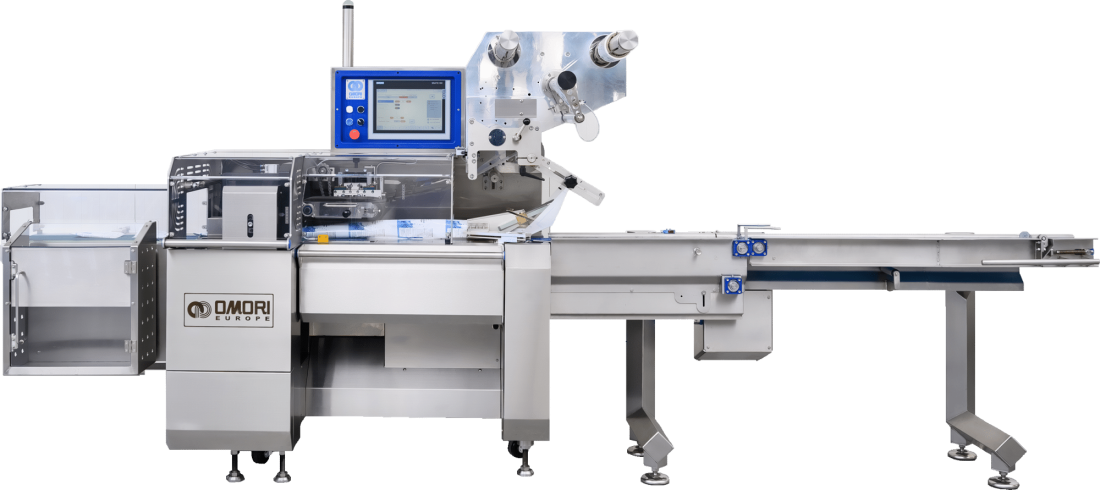 Your partner in packaging
Innovative solutions for efficient and targeted packaging.
packaging machines
Sustainable, reliable and fast – delivered turnkey.
Design and engineering
Creating a solution for each specific application; customized machine building starts with engineering.
Service and maintenance
24/7 technical support; from commissioning to preventive maintenance.
Flowpackers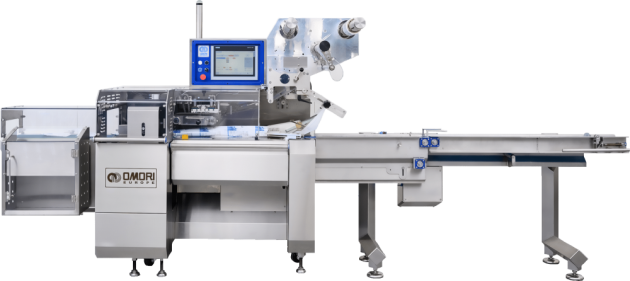 Omori Europe is developing what we call a European Omori; a flowpacker completely designed and produced in the Netherlands. Because, in addition to the assembly, we design the control and software ourselves, using European components such as Siemens, Lenze and Festo, we succeed in meeting almost every customer requirement.
You can count on expert advice for any packaging issue. Using the very latest technology, Omori flowpackers are particularly suitable for packaging products with gassing, which enables an excellent hermetic seal. Thanks to the fully stainless steel construction and the IP65 protection degree of the components, the flowpackers can be installed in damp areas. Naturally, our flowpackers also comply with HCCP regulations and can be equipped with a buffer system for automatic loading. It is possible to add various accessories to the basic version of the packaging machines, including various inlet systems, oxygen absorber dispencer, wipper discharge belt, gassing, splicer, air discharge with collecting tray and much more.
Download datasheet (.pdf)
Stretchwrappers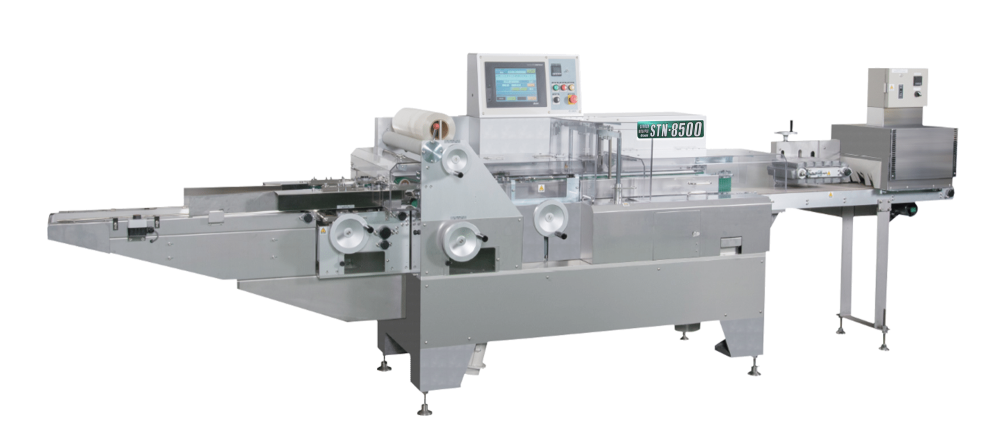 Stretch wrappers from Omori Europe are packaging machines that are very suitable for the food sector. The horizontal STN-series stretch wrapper is a Servo motor driven and shock-free stretch film wrapping machine for packaging and sealing products in tray or tray at high speed. The stretch wrapper only makes packaging if a product is offered on the input and thus packs on command based on the product's supply. No product = no packaging, or on-demand. The machine is equipped with a unique foil flap folding system for an attractive packaging presentation.
The machine is easy to place in line and it is possible to achieve speeds of up to 120 packs per minute, optionally even up to 150 trays per minute. Because the machine is equipped with a belt feed consisting of several belts that automatically adjust the pitch, it is not necessary to have a constant supply of products. The foil is wrapped around the tray by means of a unique stretching and folding system. With this method up to 20% foil can be saved compared to other techniques, but it is also possible to process PVC-free foil.
Omori Stretch Wrappers are high-quality packaging machines that are particularly suitable for use in the food sector. Our stretch wrappers are used in fast packaging lines for many food products such as meat, fish, vegetables and mushrooms in trays. The STN-8500 Omori Europe is the fastest inline stretch wrapper in the world!
Download datasheet (.pdf)
Reclose flowpackers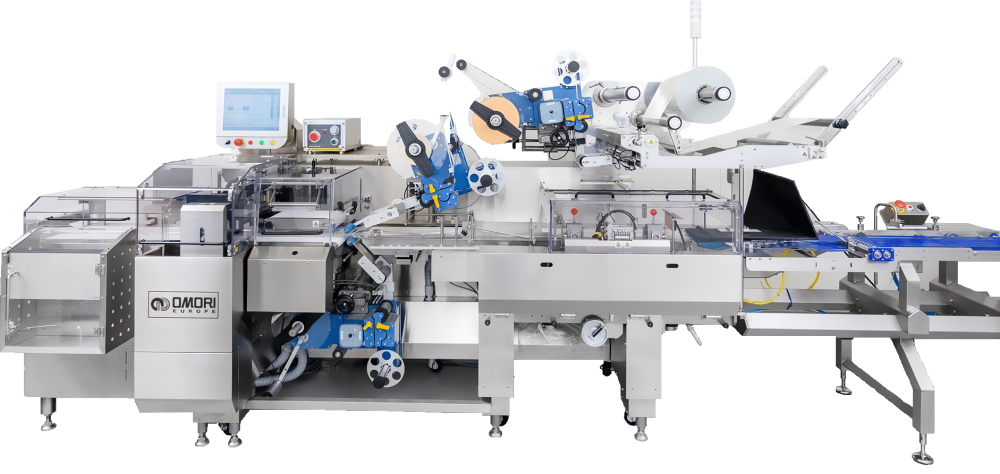 Omori Europe is the undisputed market leader in the packaging of sliced ​​cheese and meat products with the development of resealable flowpack packaging machines. A leading example of sustainable packaging is the resealable Selopack™ packaging. This concept was conceived and further developed more than 15 years ago. Since 2010, packaging has become an integral part of the shelf image of Dutch supermarkets. And it didn't stop there. By continuing to innovate and bringing packaging techniques and packaging together, we have succeeded in using substantially less film for the same packaging, which has resulted in enormous savings in film consumption and film waste.
Other examples of reclosable packaging introduced by Omori Europe are the folding pack packaging (3s packaging), the Ariapack (resealable packaging with foil feed from below), the Bellpack (folded 3s packaging with reseal label) and the Rockpack (resealable packaging with standing properties ). Our packaging machines are suitable for a wide range of films for the highest opening convenience.
Download datasheet (.pdf)
Projects with this machine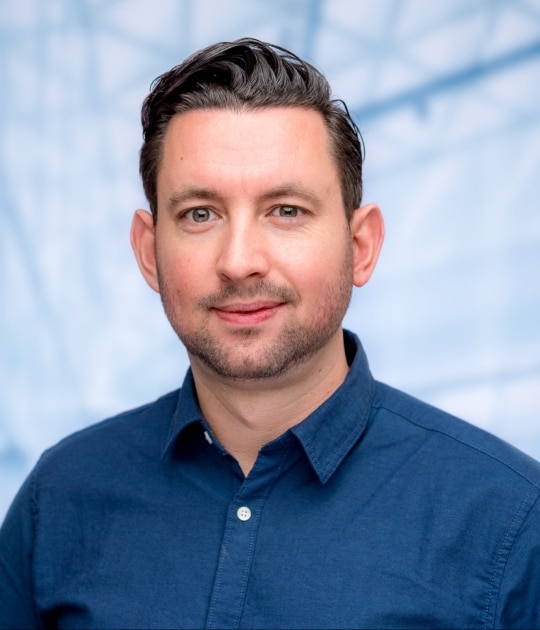 "With my technical knowledge and experience, I love to advise customers on the right purchase of an Omori packaging machine or a complete packaging line."
Chris Westenberg
Sales support
Pack your product